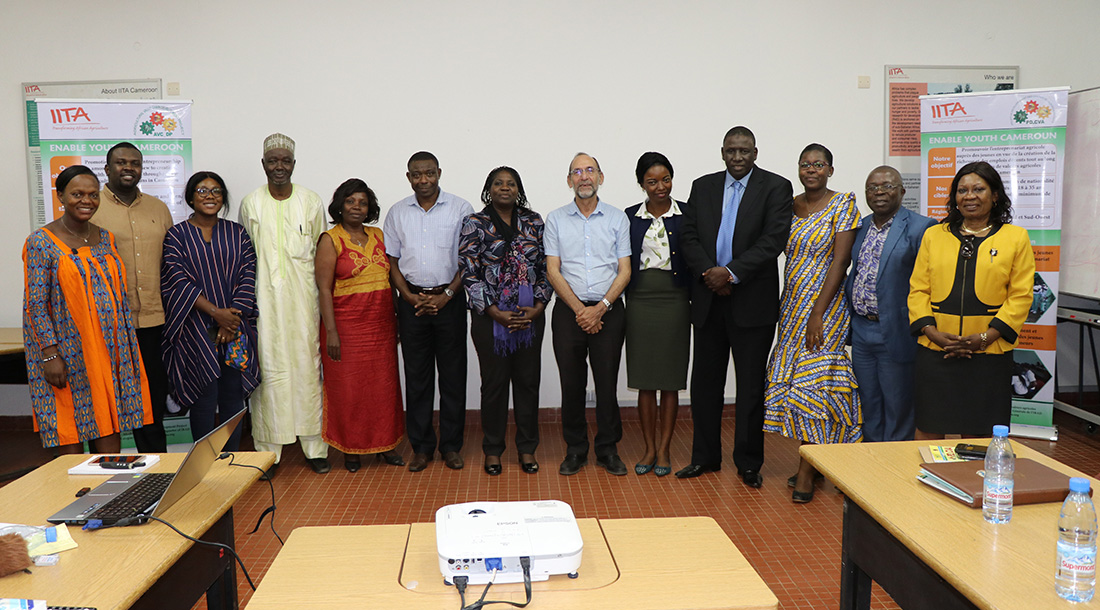 16 May

ENABLE YOUTH CAMEROON HOSTS AN EVALUATION MISSION OF THE AFRICAN DEVELOPMENT BANK

During the month of November 2018, the team of ENABLE Youth Cameroon received the African Development Bank, in visit to assess the progress made for the implementation of the Program in Cameroon.

On the afternoon of Thursday, November 22, 2018, the African Development Bank (AfDB) team entered the campus of the IITA station in Cameroon. Led by the National Coordinator of ACV_DP and the M&E of the said Project, the team was headed by Aminata Sow, Agricultural Projects Manager at the AfDB, accompanied by her team and representatives of 2 Ministries (i.e. Ministry of Agriculture and Rural Development and Ministry of Economy, Planning and Regional Development). They were all received by Dr. Cargele Masso, Coordinator of the ENABLE Youth program in Cameroon (EYC), together with his EYC team.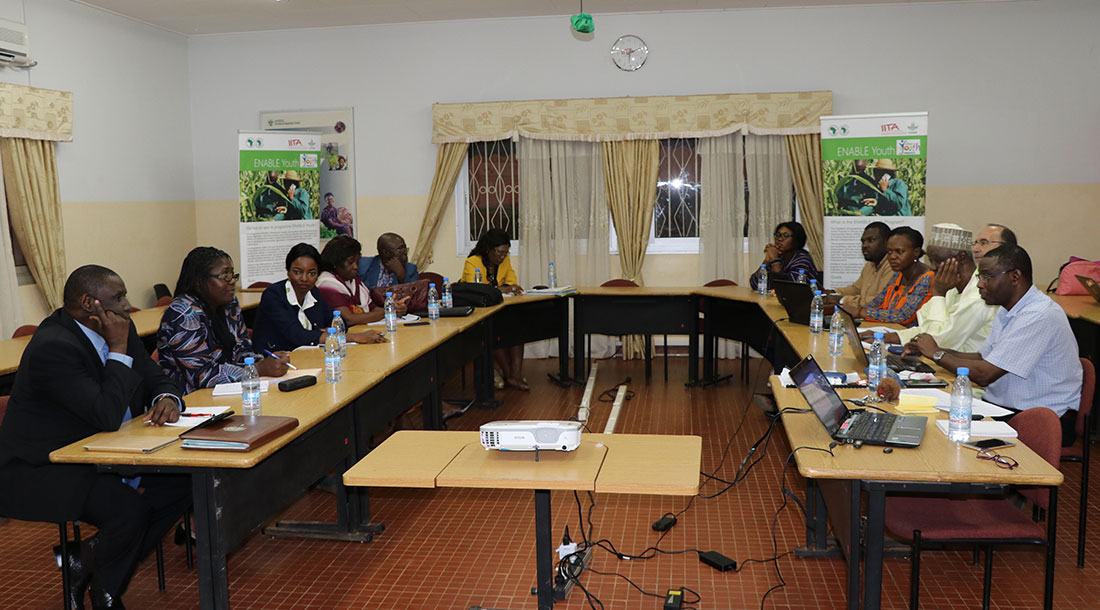 After the introduction of participants, the meeting which was held in the Conference Hall of IITA Cameroon began, with a Power Point presentation by the EYC Communication Officer (i.e. Mrs Francine Tchouta) outlining the progress of each of the activities implemented since the beginning of ENABLE Youth Cameroon. The presentation on the Project not only allowed the participants to be at the same level of information, but also laid the ground for exchanges between AfDB and EYC. Indeed, it was directly followed by the third articulation of the meeting, made up of questions from AfDB to EYC, under the leadership of Aminata Sow. As for the most important part of the exchanges, namely responses to AfDB questions, it was done under the leadership of Dr. Cargele Masso and Mr. Aboubakar Yacoubou, EYC Technical Advisor.
Although actions and activities carried out since the signing of the Convention on May 17, 2018 to to-date have been on the agenda, the fact remains that the focus of the exchanges between the AfDB and EYC was on four main points, namely: the selection of YABICs, the recruitment of new experts for the Project, the recruitment process for agripreneur interns and the plan for 2019.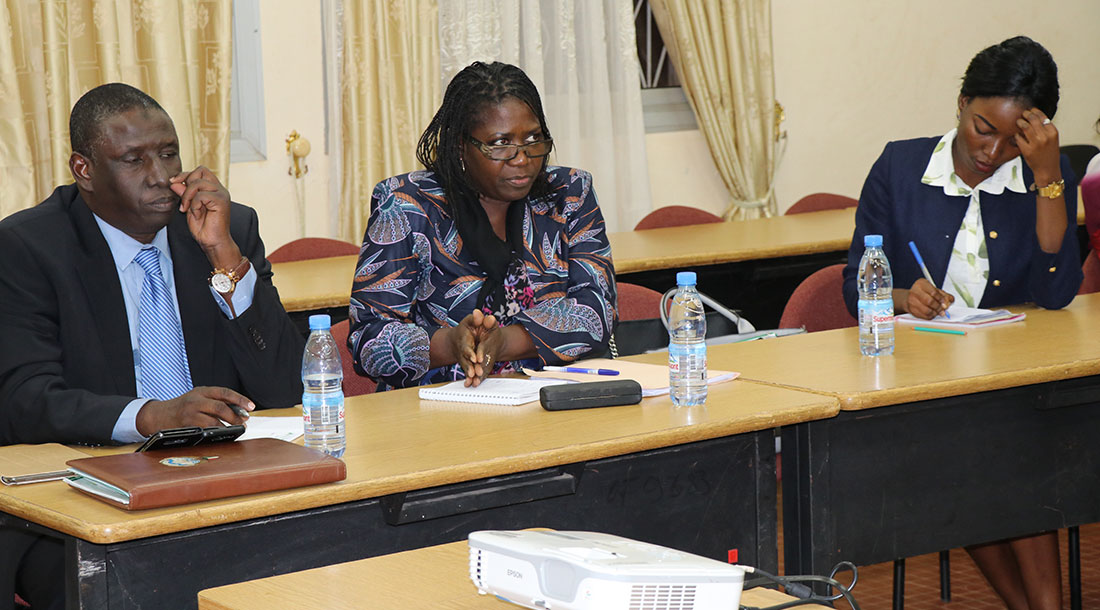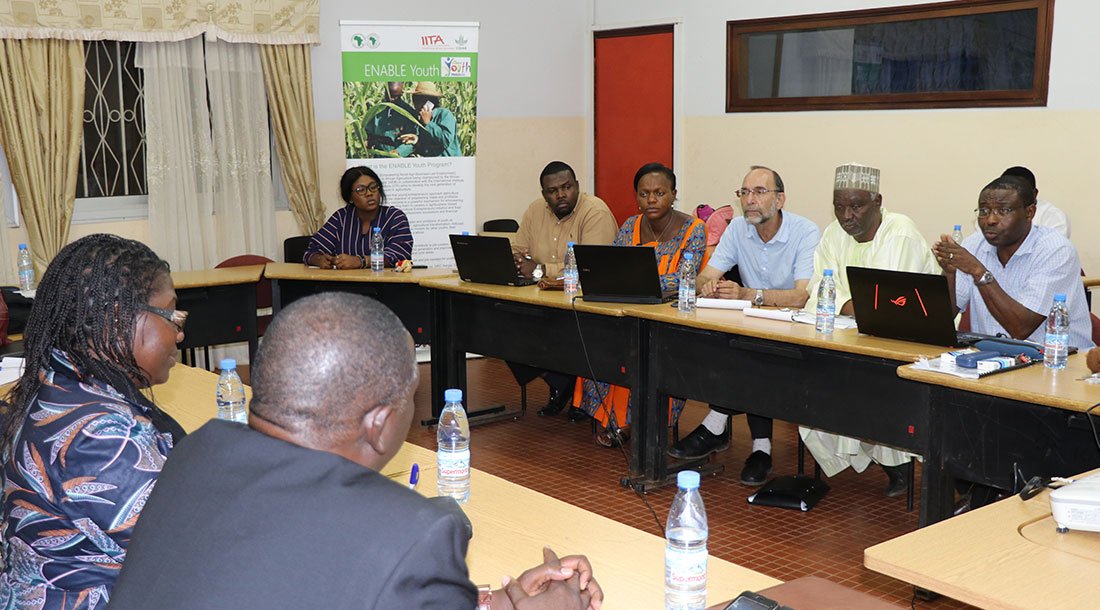 The discussion allowed the EYC team to provide the AfDB with further details on: the reasons for recruiting new experts for the project, details on the training of agripreneur interns, the role of YABIC Coordinators, and importantly criteria that guided the selection of YABICs and agripreneur interns. In all instances, the participants agreed the success of EYC will heavily depend on enabling environment, the quality of the incubation, and the performance of the agripreneur interns; hence, the importance of objective criteria for the recruitment of interns.
It is worth reminding the reader that the ENABLE Youth Cameroon Program is promoting agricultural entrepreneurship for university graduated youth aiming at creating wealth and decent jobs throughout the agricultural value chains. To achieve this overall goal, EYC aims at training 1,536 agripreneurs, stepping stone for the creation of at least 600 youth-led businesses, as well as close to 6,000 jobs for youth in Cameroon.